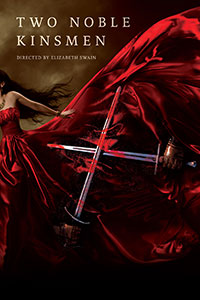 Back from Mexico (with gastro issues–hopefully–in my rear view mirror), I headed out to California Lutheran University Saturday night to check out The Two Noble Kinsmen by Kingsmen Shakespeare Festival.
Now, this is a special instance for me:
1) A play I've never seen before.
and (more importantly)
2) A play I've never read before.
So, I was curious. What is going into Shakespeare totally unspoiled like? (well, John Fletcher with William Shakespeare, that is) I mean, with every other play (save Henry VIII or the even more obscure collaborations), I've at least read each of the plays. What's it like with no experience going in?
Interesting, I'll tell you.
I knew, or at least assumed, that this was a comedy (rule of thumb: no character names in the title? we're talking a comedy [or a tragicomedy/romance]). And yet in the opening scenes, I couldn't help thinking, "Man, this is pretty damned dark for a comedy."
We get the interruption of the nuptials of Theseus and Hippolyta by three queens, mourning the deaths of their husbands, and asking Theseus to intervene so that the bodies of their spouses can be retrieved and buried. He concedes, and sends an army to Thebes to get this done.
There we meet two Theban soldiers–our titular noblemen–Arcite and Palamon…they are more than willing to fight for their country and each other, but as it turns out, they are wounded and captured by the forces of Theseus. At this point, it's still a pretty dark situation. In prison, they revow their allegiance to one another, but then see Emilia, Hippolyta's beautiful sister, and both fall in love. Allegiance and love turn to rivalry and hate, but–ironically–this is where the comedy and levity begin. Arcite is released and banished back to Thebes, but he sticks around in order to woo Emilia. Palamon becomes the object of affection of the lailer's daughter, who breaks him out of prison, in hopes of his loving her.
Director Elizabeth Swain mounts the production in a straightforward manner: no funky interpretations or concepts. She does, however, push the musical and dance elements of the play. In fact, there's a stretch near the end of the first half that, while highly entertaining, seems to pull us away from the narrative drive of the plot. The direction is solid, but the play, the script, itself is less so. In fact, by the end, the story just feels like a mess. One can see how this is a rarely produced show.
That said, the performances are exceptional. As the brothers-in-arms and rivals-in-love, Connor Sullivan and Rafael Goldstein are at turns comic and intense. Samantha Eggers gives the object of their desire more complexity than one would expect (I'm really going to have to read this soon to see if the hints of alternative sexual orientation in her character are as obvious in the script as it seems to be in performance). But stealing the show is Rachel Seiferth as the otherwise nameless Jailer's Daughter. At turns goofy, giddy, hurt, and finally mentally crushed, her performance is both wonderfully comic and emotionally heartbreaking.
This is a very good production of a not-so-very-good script. The ending is a bit of a head-scratcher: death and marriage… for a wife who has no choice in the matter. But those performances–and the fact that this is a rare chance to see this play on stage–make it worth the effort.
Of course, since it ended its run last night, it's not like you have that opportunity now. Still, kudos to Kingsmen for mounting this production–like Theatricum for Coriolanus.