Thursday night, we caught a different Falstaff in the outdoor theater's production of The Merry Wives of Windsor. I don't know where to begin. Maybe it was that this came after the two heavier histories, but I had an absolute blast. I haven't laughed this much in a long time. I can't stop grinning now. My wife says this may be the most entertaining Shakespeare she has ever seen.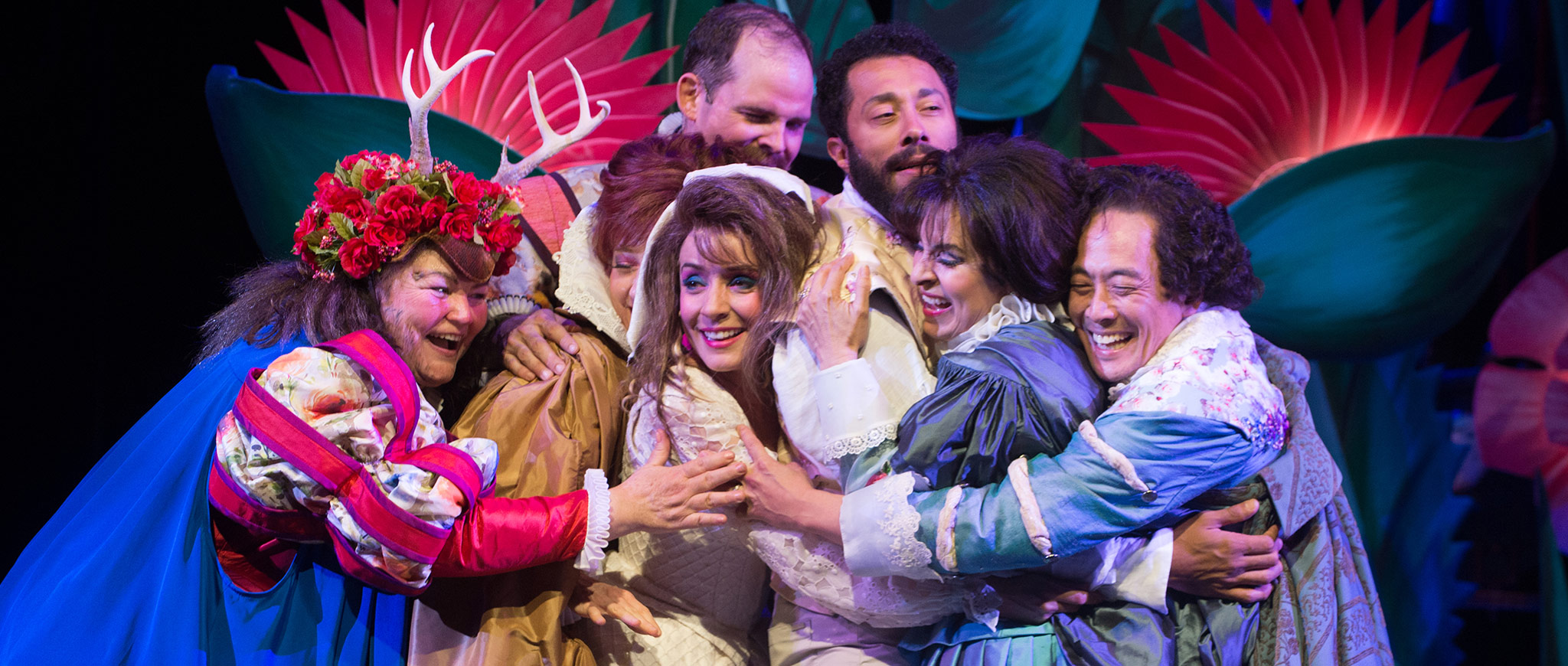 Let's start with the big question: how was the distaff Falstaff? K.T. Vogt was amazing. Yes, at the beginning you see the woman, but within minutes it didn't matter: she brought the swagger. And no matter how scuzzy Falstaff became, he was never completely reprehensible, never completely unsympathetic. So much so that for the first time I've seen, we get a reintegration of Falstaff into society. In so many productions, there's humiliation and a casting out. Not here.
Now, for the thunderstroke masterstroke from director Dawn Monique Williams. The use of 1980s popular music to punctuate speeches and scenes (sometimes with updated play-specific lyrics)…sung by the actors on stage. Look, I was in college in the 80s, so this is pretty much Nostalgia City for me. The play opens with "I Wanna Dance with Somebody" and doesn't look back from there until it closes three fun-filled hours later with a curtain-calling Falstaff doing an air guitar solo to Prince's "Let's Go Crazy" (which had been intro'd minutes [and a song] earlier by Parson Hugh Evans' declaration of "Dearly beloved, we are gathered here today to get through this thing called life…" And I can't decide which was my favorite musical cue: "Love is a Battlefield," "One Way or Another" (the first act closer), "Total Eclipse of the Heart" (the second act opener), "Whip It," "Thriller." Those (and others) were great, but it was probably Ford's "Psycho Killer"…complete with Dr. Caius' "Qu'est-ce que c'est."
The other performances were wonderful: Amy Newman and Vilma Silva as the merry wives (Ford and Page, respectively), Rex Young as Ford/Brook, Sara Bruner as Evans, Jeremy Peter Johnson as Caius, Christofer Jean as Shallow…all bigger than life, all great. The use of the hearing-impaired Howie Seago as the Host allowed the actors to sign quite a bit of their performances (even when the Host wasn't there)…It is amazing how much these gestures help communicate the meaning of the speeches (and fit the "bigness" of those performances). There's got to be a way to incorporate this more…
Are traditionalists going to cringe with the amount of ad-libbing and interjecting going on with the songs? Probably. But let 'em. In Shakespeare's day, he incorporated popular songs into the plays and interludes, so why not here. Would I do it in a tragedy? No. And yes, I know, just yesterday, I complained about the singing of sonnets…but this is different (and this is a comedy, dammit). Lighten up already.
Is this a perfect production? Of course not. There are some not-as-strong performances. They skip the bawdy Latin lesson. But damn, that's trifling when you think about all that's good here (like the Magic Kingdom-esque set decoration or the candy-coated, 80s-colored costuming). And I'd be remiss if I didn't mention the rest of the bawdiness in the play: fun and not necessarily lewd bawdiness, with Falstaff's codpiece pretty much earning a curtain call of its own.
This is fun, pure and simple.
I want to say the Henry IV plays are great and all, somehow present some serious-minded love to classic plays. But damned if this Merry Wives just wasn't more complete, more fun (obviously), more inventive, plainly better.