Last night, Lisa and I caught Love's Labor's Lost by Kingsmen Shakespeare Festival at the start of its closing weekend on the campus of California Lutheran University in Thousand Oaks, California. Now, those of you who have been around since (near) the beginning of this project probably know how I feel a out Love's Labor's Lost. Not a huge fan (it ranks down in the lower quarter of my favorite plays). People who've been around nearly as long also know how I feel about Kingsmen. A big fan.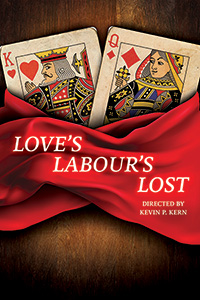 So which wins out?
Well, let's split that decision.
There are some aspects of the play (on the page) that I do like: Berowne, the cascading love-letter reveal scene, and (because I am who I am) the bawdiness. Todd Lanker, in his first season with Kingsmen, makes for a fine, brittle Berowne. That reveal scene plays well, especially as a wonderful precursor to Benedick's gulling in Much Ado About Nothing. Now, in the past, Kingsmen–in my mind, at least–has somewhat shied away from the bawdy, often refusing to mine the dirt from plays for the family-friendly benefit of their audience. Not so here. Don't get me wrong: it's not like this production needs to come with a parental advisory. It's just not as innocent as past productions. And I think it benefits from that freedom. Note: it does not, however, fully plumb the depths of the dirty–the hunting scene is not nearly as "greasy-lipped" as it could be–but that would necessitate an advisory.
So director Kevin P. Kern gets props for that. But in my opinion, that the not best thing about his approach. He has pushed his actors to not just play to the audience, but to play in the audience (literally), to interact with the audience. This prompts characters like Costard (Louis Jerry Kernion playing him like a rustic Benny Hill) and Armado (a wonderfully funny Jason D. Rennie, topping last year's Puck from Midsummer) to enter the crowd, and allowing for some very humorous ad-libbing. And this helps to make a first act that is an absolute marvel.
You can just feel a "but" coming, can't you?
That ending. That interminable, cruel, mocking, expectation-denying unhappy ending. How do you stick an ending like that?
I don't know. Hell, I'm not even sure you can.
Kern and his cast try valiantly, but Shakespeare has left them (or any acting company) absolutely nothing with which to work. The ending–not Kern's, but Shakespeare's–simply does not work.
There are but two performances left in the run: tonight and tomorrow night. I highly recommend it…especially if you've never seen this not-oft-produced play. At intermission, you'll wonder why this isn't a summer Shakespeare seasonal staple; at the end, you'll know.