OK, as I mentioned yesterday, they're doing something very interesting with the two parts of Henry the Fourth this year at Ashland. They're doing both in the smaller, more flexible Thomas Theatre. With the same cast. The same set. Different directors. And because of this, I wanted to wait until I saw both before reviewing them…so today, you get two for the price of one: the two parts of Henry IV, and tomorrow you'll get The Merry Wives of Windsor.
On Wednesday night, we caught The First Part of Henry IV. Directed by Lileana Blain-Cruz, it's set modern-dress (I'm guessing this may be a holdover from last year's Richard II, or it might be a individual choice by Blain-Cruz, which then affected the choices made by Carl Cofield for Part Two. The set is modern and non-representational (save for the throne that sits up in the last row of the audience (in the round)…and this totally feels like a holdover from Richard.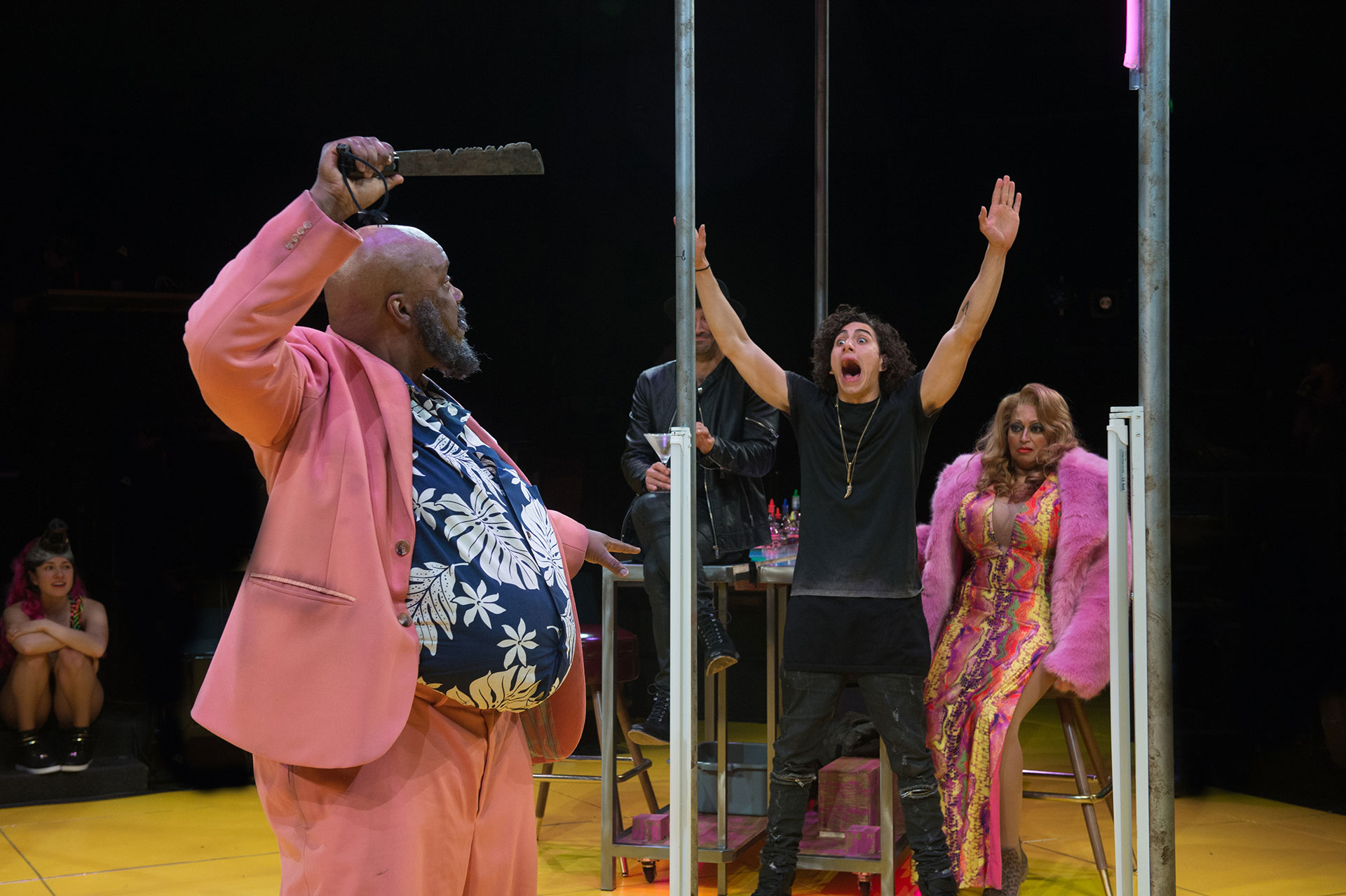 The cast is fascinating. First, though, something out of the ordinary: in the performance we saw, the usual Falstaff, G. Valmont Thomas, was covered by his understudy Tyrone Wilson (I feel bad for Wilson, as there was an audible "ohhhhh" when the announcement was made). This Falstaff–especially if it was a first go–was pretty damned amazing. Swaggering, overbearing, and very very modern (an interesting choice by Blain-Cruz was to pronounce most of the "yea"s as "yeah"s, which give the readings an ironic feel). Hal is played by Daniel Jose Molina, in a totally committed performance. Thin as a rail, tattooed, hair wildly unkempt (which became a sight gag for others), he was a punk(rock) prince. Both Worcester and Peto (and Glendower) were played by women as women, the latter by little person Lauren Modica (whose Glendower was one of the strongest I've seen). But the gender-switch coup de grâce was Alejandra Escalante, who played the badass warrior Hotspur. I liked the concept and the execution of this; especially in her delivery to her female wife, "But thou art a woman"…the quasi-disdain was almost self-loathing.
So far so good.
However, the relationships between Hal and Falstaff, and Hal and his father…both seemed strained in performance (as opposed to in narrative). Maybe it was the last-minute replacement of Falstaff, and maybe it was what the Shakespearean script gives to the father-and-son pair. But as the old joke goes, if you're on the fourth of fifth divorce, maybe the problem isn't the other spouse…maybe it's you. It's not that Molina's performance isn't good; it's actually very good. But at no point did I see him with affection for Falstaff–who seemed but the target for most of his barbs (on the other hand, I saw an affection–but not exactly love–by Falstaff for Hal [though maybe this was just the acceptance of an annoyance because he's your meal ticket]). And if those two relationships don't work (and for me that means having an emotional resonance), the production is in trouble.
And that's a problem for a play that structurally front-loads its narrative. The scenes in the first half of the play all drive the plot forward or deepen character relationships. In the second half, we know the war is coming, and so every dialogue-heavy scene delays us from getting there. And thus, our second half drags. And I'm wondering if this is known by the audience. The sold-out performance we attended had a scattering of empty seats post-intermission (and fewer audience members can suck the energy out of the room and the cast, so that the performance suffers and drags as well). The final battle is good, but it suffers (for me) the same malady as most modern dress histories (and some tragedies) do: on the battlefield, when the soldiers have rifles, sidearms, and grenades, it's tough to buy a mano-a-mano showdown. But the ending was effective.
So…
Do I recommend it? "Yea" … "yeahhhhhh."
Now, on Thursday afternoon, I returned to the Thomas Theatre for The Second Part of Henry IV. Much of the piped scaffold/grid set had been removed from the stage, with the square lights above. The biggest difference was a completed mural behind the throne. And I was wrong earlier–it wasn't a decaying mural of Henry behind the throne, but rather an incomplete tribute to his predecessor, Richard II.
As the show was about to begin, the line producer of the OSF appeared to tell us–like last night–that Wilson would be replacing Thomas as Falstaff, but unlike last night–since this is the beginning of the run, without having later-in-the-process understudy rehearsals–Wilson would have script in hand. But more on that later.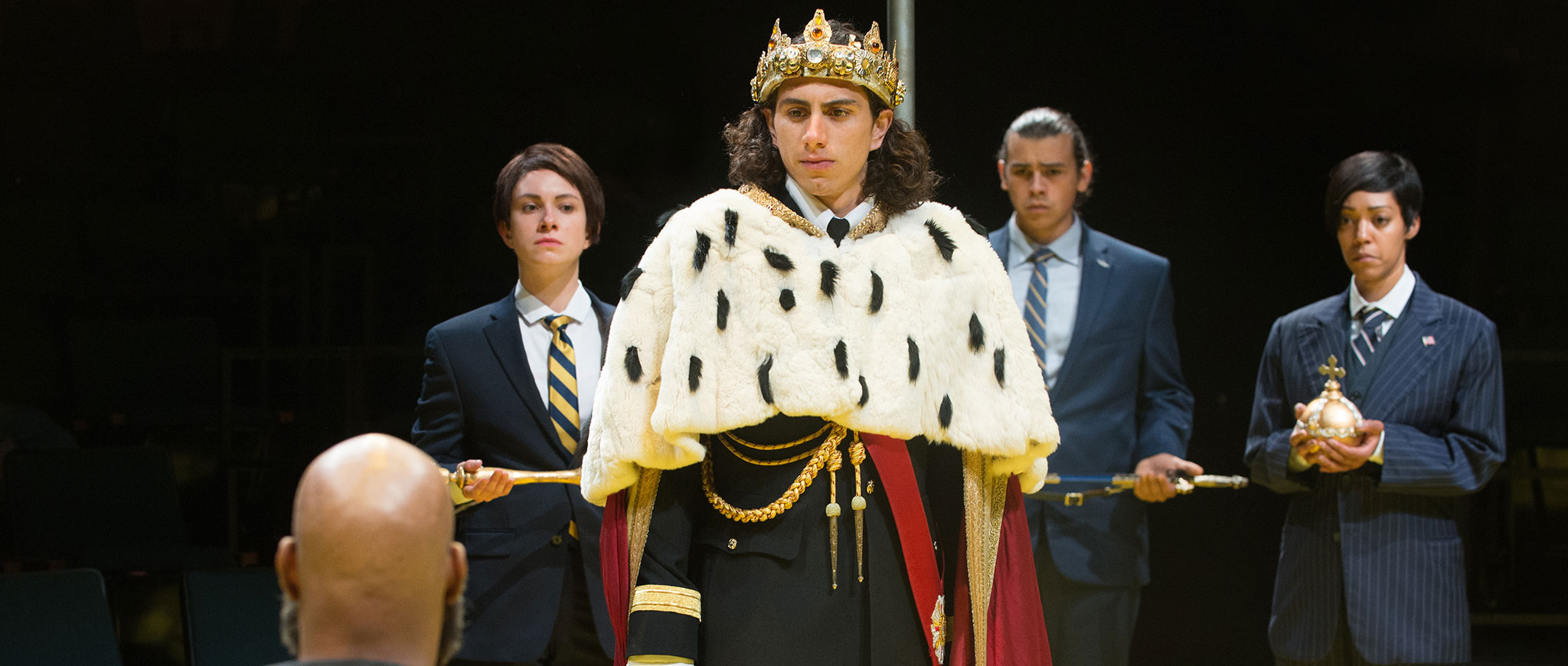 This Second Part was similar in style, so much so that I really couldn't describe a difference between approaches, save for two:
Characters broke out into four songs over the course of the evening: two by Mistress Overdone (and again–as in Shakespeare in Love the day before–it was a Shakespearean sonnet set to music), and two by Master Silence (a cross-dressed Mojica).
And the Bawdy. Holy crap, I had forgotten how lewdly bawdy this play is. I did notice there was a little bawdy in the First Part, but more opportunities not taken than taken fully. This show today, however, took the bawdy and ran with it. Funny stuff.
Anyway…
This play begins with Rumor personified (Escalante, last night's Hotspur, who also played this play's Doll Tearsheet) telling us about how misinformation has run rampant in the kingdom. She appears again at the end, but it would have been nice to have her appear occasionally throughout the play to keep this in the minds of the audience.
But here's the deal. Shakespeare was wonderfully ahead of his time. We're used to sequels not being as good as the original…and he gave us the blueprint here. Take what worked before, and rehash it–Hal still isn't doing his princely duties, Falstaff is still a lowlife, there are still rebellions, and the king's health is in decline (not helped by Hal's non-appearance); then take any characters who had chemistry together, and split them up into separate storylines–there is so little interaction between Hal and Falstaff, Hal and Henry IV, and–in a way–Falstaff and Mistress Overdone (as she is overwhelmed by Doll Tearsheet). Despite some good stuff (the bawdy, the ending, and final reconciliation between father and son), it really is a pale imitation of the First Part.
What didn't help was our script-in-hand Falstaff. He was still good, but just having the script there took me out of the world of the play, and his eyes going to it so often, slowed the play down (what had been–according to the program–a 2:45 production, stretched to 3:05. I think it may have thrown the other actors off as well. But this will get better with time and additional performances; as will some of the weaker of other portrayals (I'm not going to point them out, but safe to say, some actors seem to have a particular character type in their wheelhouse, and not so much others). On the plus side, I am now willing to specifically watch anything Mojica is in…she just killed it.
So, do I recommend it? I'm not sure. I think it will get better as it gets more time to get its sea legs, but is it going to get that much better? I don't know.
I'd love to see what others who have seen the show(s) think…