Allrighty then, my brethren of the Bard…
Here's your friendly reminder about this week's PBS premiere of the BBC's second series of The Hollow Crown on PBS' Great Performances…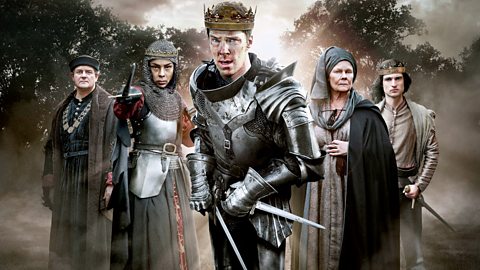 Now, in my neck of the woods (SoCal…represent!), Great Performances runs Sundays at 9pm.
I'll be plopped in front of the tube then to watch it live (now that the first season of Westworld has run its course [loved it…and not just because it's peppered with Shakespeare quotes or that it ties in to the subject matter of my next Master's degree program paper (the Promethean/Frankenstein archetype as Byronic Hero], and I can't bear to watch The Walking Dead anymore)… may even live-tweet that bad boy.
I enjoyed the season of The Hollow Crown, especially Tom Hiddleston as Hal/Henry V. I think his St. Crispin's day speech is a wonderful example of an understated performance, perfect for the intimacy of television (it wouldn't work, I think, on the stage).
This season we get the first tetralogy, here called "The Wars of the Roses," the stories of Henry VI through Richard III, split into three parts. Richard gets his own episode, and they'll somehow put the three parts of Henry VI into two parts..it'll be interesting to see where they divide those plays.
Here are some links to associated videos on the PBS site:
Part one runs this Sunday (your mileage may vary); part two on Sunday the 18th; and we get bloody, deformed Richard for our Christmas present…
I'm really looking forward to this…