OK, a quick break from our regularly scheduled Antony and Cleopatra discussions…
I've been hearing about this bizarre performance piece called Table Top Shakespeare for a while now. This group, Forced Entertainment, has put together one-hour breakdowns of 36 of the Bard's plays (in other words, just about all of them), in which one performer walks the audience through the play, explaining the characters and conflicts using everyday objects played out on a table top.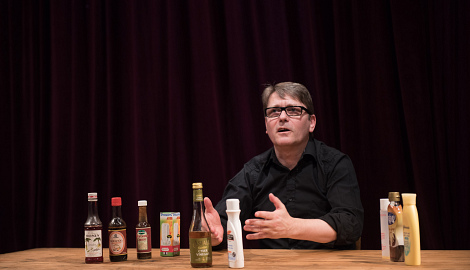 Or as their website puts it:
A salt and pepper pot for the king and queen. A ruler for the prince. A spoon for the servant. Lighter fluid for the Innkeeper. A water bottle for the messenger…

In Complete Works six performers create condensed versions of every Shakespeare play ever written, comically and intimately retelling them using a collection of everyday unextraordinary objects on the one metre stage of a table top.

Forced Entertainment have long had an obsession with virtual or described performance, exploring in different ways over the years the possibilities of conjuring extraordinary scenes, images and narratives using language alone. In a brand new direction for the company, Complete Works explored the dynamic force of narrative in a simple and idiosyncratic summary of Shakespeare's comedies, tragedies, histories and late plays, creating worlds as vivid as they are strange.
It's gotten rave reviews, and has piqued my interest every time I've read about them. They're coming to town (or at least near my town) in December when they'll set up shop for a multi-day stay at UCLA. But even better, they've just announced that their complete works will be live streamed from Theaterfestival Basel in Switzerland this week. From September 1 – 9, the Forced Entertainment website will be broadcasting to the world, a live stream of the performances… all 36 of them!
So we all get to see what the fuss is about.
Personally, I cannot wait.
Here's the schedule (all times are GMT):
Thursday, September 1
5pm Coriolanus
6pm King John
7pm Love's Labor's Lost
8pm Macbeth
Friday, September 2
5pm Pericles
6pm Richard II
7pm All's Well That Ends Well
8pm King Lear
Saturday, September 3
5pm Much Ado About Nothing
6pm Henry IV Part 1
7pm The Comedy of Errors
8pm Antony and Cleopatra
Sunday, September 4
5pm Measure for Measure
6pm Henry IV Part 2
7pm The Merry Wives of Windsor
8pm Taming of the Shrew
Monday, September 5
5pm Julius Caesar
6pm Henry V
7pm Troilus and Cressida
8pm Hamlet
Tuesday, September 6
5pm Twelfth Night
6pm Henry VI Part 1
7pm The Merchant of Venice
8pm Titus Andronicus
Wednesday, September 7
5pm Romeo and Juliet
6pm Henry VI Part 2
7pm Two Gentlemen of Verona
8pm As You Like It
Thursday, September 8
5pm Cymbeline
6pm Henry VI Part 3
7pm A Midsummer Night's Dream
8pm The Winter's Tale
Friday, September 9
5pm Othello
6pm Richard III
7pm Timon of Athens
8pm The Tempest