This is the fifth and final capsule review for the plays I saw last week in Ashland as part of the Oregon Shakespeare Festival's 2016 season. Full reviews will be in the podcast on Sunday.
Now: Twelfth Night.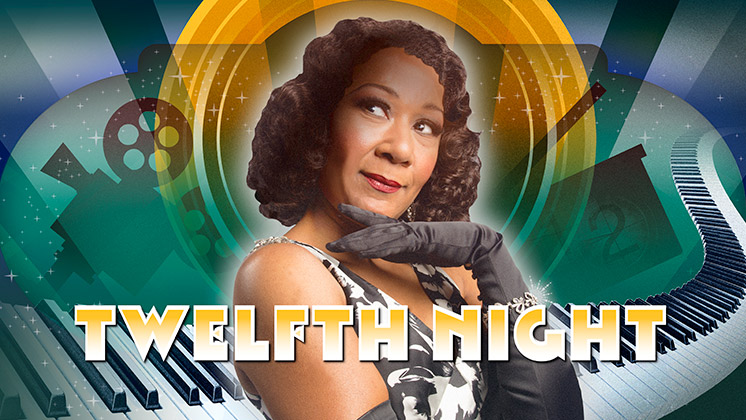 On Saturday night, we all saw Twelfth Night in the big Bowmer theater. And what a great way to close the trip, fun and frothy. Director Christian Liam Moore (yes, the actor who played Richard in the previous night's Richard II) has set the play in the 1930s in southern California at the legendary Illyria Studios. A black and white newsreel sets the stage (and provides exposition for those in the crowd who may not be able to decode the Shakespearean exposition in the opening scenes of the play…as well as a kind of framing device).
In an interesting move, Moore decided to have both twins, Viola and Sebastian, played by the same actor, Sara Bruner. She was convincing in both roles, though it did leave me wondering as to how the ending was going to play, as the two twins are reunited.
It's a long way from the beginning to the end, and much of it is filled with song and laughs. The songs are provided mostly by an on-stage piano player and a wonderfully wry Rodney Gardner as Feste. The laughs are generated by the remainder of the cast, but one performances stood out for me: Danforth Cummins as Sir Andrew Aguecheek. Wonderfully pliable, in both face and body, he was a comic gem (his Aguecheek is more successful than his Hamlet which we caught two nights earlier). He and the others build a performance with great gags involving water, farts and the never-fails gulling of Malvolio.
The ending of this play is problematic on the page (the Malvolio punishment is simply too cruel, too painful). And it's compounded by Moore's decision to single-cast the twins. His solution is for Bruner to step behind (and onto) a movie screen, where she interacted with herself as if in a black-and-white movie that all the other characters watched. Conceptually and technologically, it's interesting. In practice? Well, for me, it didn't work.
Moore was able to save the day, though, with a full-cast song-and-dance number, led by Feste, that ends the play on an up note.
So the verdict on this production? It's good stuff, at moments heading toward great, but derailed by the end of the play. Still, highly recommended.