This is the third capsule review (of five) for the plays I saw last week in Ashland as part of the Oregon Shakespeare Festival's 2016 season. Full reviews will be in the podcast on Sunday.
So: Hamlet.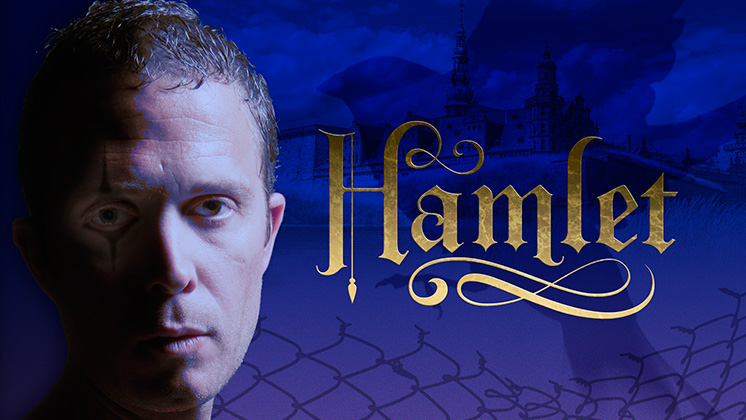 Wednesday night, we all caught Hamlet in the Elizabethan. The first clue that this wasn't your daddy's Hamlet (hot on the heels of the wild Timon earlier that day) was the huge drum cage on the upper platform. Scott Kelly, member of the band Neurosis, was the musical accompaniment for the show, with drums and feedback drenched electric guitars. A guitar was used as a weapon during the final bloodbath, as well.
So it was definitely a move against a staid, reserved Shakespeare (though when I was here 5 years ago, Dan Donahoe played a modern-dress Hamlet, complete with hip-hop artists as the players, so OSF certainly isn't tied to giving us a so-called straight Hamlet). This Hamlet was at turns sarcastic and angry, but I only believed him or felt connected to him, when he was most obviously playing "mad." He, too, picked up a guitar and microphone throughout the otherwise completely period-dressed show, at times interacting with Kelly above.
If this sounds a little iconoclastic, it was. I'm not against iconoclasm, you all know this. But this just didn't work for me. Especially when it came to the Speech. You know the one. Before the previous scene is even over, we hear Hamlet muttering, "That is the question" over and over again. He then appears coming through the audience, carrying the mic stand and saying the statement repeatedly, until he stopped, spun, and used the mic stand to extend the mic to a member of the audience, and had him say the opening line, then resumed the speech.
I can't speak for others in the crowd but it did not work for me. Don't get me wrong: some of the ideas did work. Using multiple actors to play the ghost, having him appear and disappear from various entrances, to give a supernatural impression, was fabulous. But in thinking about this with time in between the act and this writing, was this more nose-thumbing? Was she saying something about all these dead white guys (and they were all in white-face) on stage? I don't know, and I should probably just leave it at that.
Regardless, I've seen some pretty good reviews for the production, so maybe it was just me…