Continuing our video capsule reviews for King Lear…
Next up, we have the 1971 King Lear film by Russian filmmaker Grigori Kozintsev, who had directed an award-winning film version of Hamlet less than a decade earlier. Despite the relatively recent date, it's a black and white film, which makes it feel older. The film was adapted by Kozinstev from a stage translation done back in 1949 by Boris Pasternak (yep, he of Doctor Zhivago and Nobel Prize fame), and completed with a score by Dmitri Shostakovich. [note: that earlier Hamlet also was from an earlier Pasternak translation and featured a Shostakovich score.]
With a pedigree like this, you'd expect this to be a pretty good film, and you'd be right. The cinematography by Jonas Gricius is beautiful–beautiful but eerie. The performances, too, are top-notch. In particular, a spindly Jüri Järvet makes for a wonderfully (physically) weak and (psychologically) crazed Lear. Prone to physical outbursts, his breakdown in the storm (as well as the storm itself) is superbly done.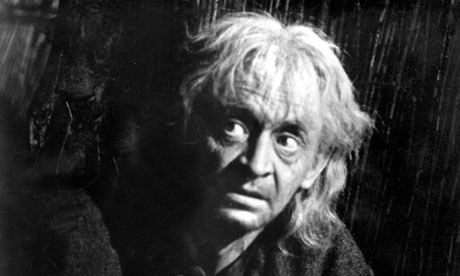 Kozintsev does some great things with the script and the storytelling, things I haven't seen before in our previous versions (like Blessed, Brook, and Miller):
We see the marriage of Cordelia and France (unnecessary, but still nice)
Edmund and Goneril are still at Gloucester's estate after the eye-gouging, and their separate dressings gives the implication that they've just consummated their affair
Regan backs away from Cornwall as he collapses from his wound, then immediately goes to Edmund and begins to undress him
Gloucester feels Edgar's face, recognizes him by touch, then dies (Edgar usually just reports this in the last scene)
We see Goneril poison Regan's drink
At just over two hours, it's obvious that they've been cuts made to the script. But seeing it in another language–even though the subtitles are pretty much the Shakespearean words–makes the cuts seem less drastic.
Unlike the upcoming Kurosawa Ran, this is a translation, not an interpretation. So it IS Lear. And while I liked it–a lot–I can't say that this should be your only Lear…it's one you should see…just not the only one you should see.
And don't forget to keep your ear out for our upcoming podcast with full reviews of all the major versions I've found!