A full review will come as part of an overview of the videos available, but for now…
In 1989, Trevor Nunn reteamed with Ian McKellen to take on another tragedy (they had done Macbeth together in the 1970's): this time, Othello, with Willard White in the lead role, and McKellen as Iago.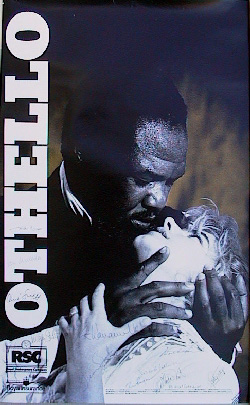 This Royal Shakespeare Company production included Nunn's soon to be wife Imogen Stubbs as Desdemona, and Zoe Wanamaker as Emilia).
This is a dark video reproduction of the play's presentation, and I don't mean tonally (though it is); visually, it's dark. Set on flat dark stage, with only a scene's main prop (a table, some crates, or Desdemona's bed in the final scene) lit, and the actors doing their thing around it, in most scenes the background fades to black. In such a relentlessly tonally dark piece, this visual motif does nothing to generate any interest for the eye. Maybe that was Nunn's point or purpose, but it still doesn't make for a great viewing experience.
The performances are, not surprisingly, excellent. McKellen is awesome and White is great (though his basso profundo voice is almost ridiculous in its deep richness [that use of a technical term may not be technically correct, but you get my point]).
Nunn has quite the directorial resume, but I find his work in musicals (Cats, Les Miz) more entertaining than his Shakespeare productions (Twelfth Night, this Othello)…at least thus far (that McKellen Macbeth is still in my future).
Verdict: good, not gobsmacking, but worth a viewing…
Better yet are McKellen's own recollections of the production and his approach (from his website):
Iago is an easy part to bring off and rarely fails to impress. I am not the first to realise that there is no need to act the underlying falsity of the man rather to play "honest Iago" on all occasions. "Do not smile or sneer or glower — try to impress even the audience with your sincerity": Edwin Booth. As Iago confides the truth to the audience (as always in Shakespeare), they are privy to his deceit and the gulling of Roderigo, Cassio, Desdemona and Othello himself. It is an unfair advantage and early on Willard accused me of trying to get the audience on my side against him. I explained that I didn't need to try — Shakespeare had organised it that the villain's part should be the audience's portal into the action. The history of the play records many more serious misunderstandings between the Moor and his Ancient.