OK, so I was in Ashland for a little over 48 hours… and I caught three plays from this year's slate at the Oregon Shakespeare Festival, their 80th season. I'm home now, and exhausted, but here are my capsule reviews in the run-up for fuller discussions in Sunday's podcast.
The first play I saw was Pericles, the first of that last genre Shakespeare wrote, either Tragicomedies or Romances–depending on who's doing the describing. This production was directed by Joseph Haj in the small, but flexible Thomas Theatre venue.
The most striking thing about this play (and there were many things that struck me) was the stagecraft, from the set that was a series of oddly shaped landings, to the projected night skies onto both the floor and backdrop, to the waves created by fabric and air. It set the right magical tone.
(Note: all photos on this page are by Jenny Graham/OSF)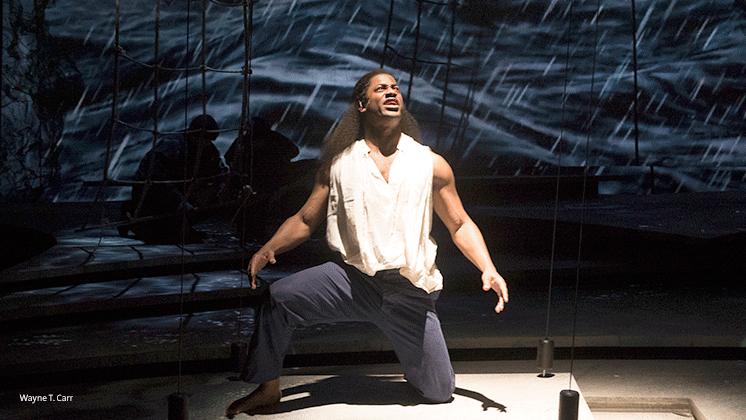 There is much music in this production. Like any good director, Haj grabs onto something in the text that opens it up for him…the play opens with the choric figure Gower intoning, "To sing a song that old was sung…" And thus, there were onstage musicians and many, many songs… too much music, maybe. I'm not sure.
Wayne T. Carr as Pericles is a marvel. Visually, he matures from cocky teen to scared man on the run, to husband, then desperate father, then broken man. But what sets him apart is his great voice, resonating, powerful. As his wife Thaisa (and also the evil foster mother to his orphaned daughter Marina, the villainess Dionyza), Brooke Parks does a wonderful physical job. Her discomfort at being the center of attention at her how birthday is palpable, and she's a delight. These two are your centerpieces, but they're surrounded by solid performances, all playing multiple roles.
It's an odd play, almost a fable or fairy tale, with evil kings, escapes by sea, shipwrecks, pirates, brothels, and resurrection. Everything in the production feeds into this, and when–SPOILER ALERT–Pericles is reunited with his family, it is incredibly moving. I could hear the teenage girl behind me sobbing and I could see older audience members wiping tears from their eyes. I cried myself, but then I think I'm becoming a sentimental old fool at times.
This Pericles is a magical, musical (maybe too much so), but ultimately incredibly moving production. This would be worth the trip to Ashland alone.
Now, later that evening, I caught Antony and Cleopatra, directed by OSF Artistic Director Bill Rauch for the outdoor Allen Elizabethan Theatre. It's a spare set but with wonderful moving or appearing pieces (Cleopatra's bed, ships on the sea). The set is anachronistically (sort of) outfitted with electronic signage for locations, and seeming neon for the columns in Rome. I say "sort of" because as a directorial choice, anachronisms are also present in the costuming. The Egyptian world seemed dressed in a modern take on what the historical costuming would have looked like, while Rome was filled with modern military uniforms and mod-ish clothing.
But enough about the stagecraft. In Antony and Cleopatra, you need leads to command the stage. And we get them. Longtime (21-year) OSF veteran Derrick Lee Weeden plays Antony as a larger than life, larger than himself even, an egotist and hedonist. His is a killer voice matched with a huge physical presence, it's obvious how he was–at least at some point–one of the world's most powerful men. And on the other side of the coin, as Cleopatra, we get 11-year OSF veteran Miriam A Laube. Laube is in her mid-forties I'd say, and it shows in her face, but that's important because these are two mature people, knowing full well what brought them to this point. And for Cleopatra, it's sex. Laube is mercurial, all emotion and sensuality. She doesn't walk when she can slink, doesn't slink when she can strut. Her Cleopatra is flat out sexy.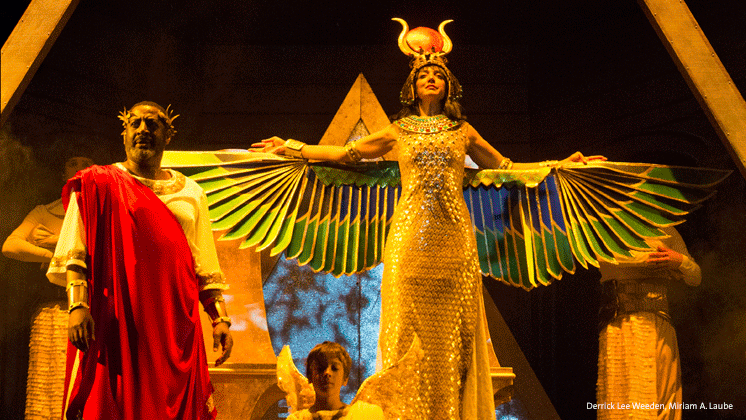 Both these leads are excellent, but I have to say the show is stolen by Jeffrey King, another longtime OSF vet of 15 years. He plays Enobarbus, the lieutenant and trusted confidante of Antony. He's been pulled into the Egyptian lifestyle as well, but doesn't seem to have lessened his manliness. His speeches (including the famous "barge" one) and his tragic end, made me want to know more about his character. Now, as I've never seen a production of Antony and Cleopatra before, I don't know if this is par for the course or just due to King's performance. Regardless, he steals the show even from the two strong leads.
The first half of the production was fascinating and flowing, constantly moving, ending with Octavius telling his sister of Antony's betrayal as we see it played out above. The production's second half, however, was less flowing that frenetic and frantic. This made the story and these two people, for me at least, less engaging, with more histrionics but less real emotion. I was completely dry-eyed through Antony's death in her arms and her death by asp. I'm not sure I should have been. Compared to Pericles earlier in the day, this ending just felt flat.
Don't get me wrong: I'm glad I saw it, just not sure if even Weeden, Laube and King make this a must see… Definitely see Antony and Cleopatra if you're there, but I wouldn't plan a trip to see it (like I would for Pericles).
The next day's matinee brought with it the last of the three Shakespeare plays of the season (note: next year's slate has a whopping five as part of their "Canon in a Decade" program): the Lileana Blain-Cruz-directed Much Ado About Nothing in the indoor Bowmer Theatre.
And I'm glad I ended with this one… I left Ashland with a smile on my face. My wife Lisa loves Much Ado more than I do, and I'm sorry she didn't get to see this one. Blain-Cruz has fashioned a thoroughly modern Much Ado, in dress, in sensibilities, in delivery.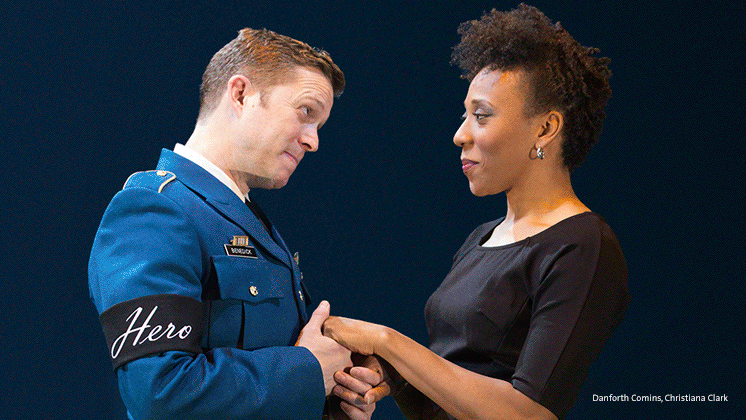 Never before have I seen such a bawdy Beatrice, referring to Benedick as "been a dick" and giving him the finger when he refers to her fury. Christiana Clark makes a wonderfully strong Beatrice, who never quite melts her tough facade, and that's a good thing. Danforth Comins is every bit her equal as Benedick with his cockiness and his broken line readings that sound less like Shakespeare and more like modern sitcom. Their gulling scenes are whacked-out scenes of broad physical comedy that each have wet payoffs.
I'm usually not a fan of Dogberry and his gang of foolish constables, but here, with Rex Young as a too-cool-for-school Dogberry on a Segway, it was laugh-out-loud funny, as if I was watching these scenes for the first time. I didn't hurt that Young is a tall man, raised even higher on his vehicle, and he assisted by Verges, played by a very old Ellen DeSandre, easily a foot and a half shorter than Young, and walking with a cane, struggling to keep up with her captain. And when we hear she's his "Mother," it brings the house down.
This is quite simply the funniest production of Much Ado I've ever seen. But that's not to say it's all fun and games. The concluding marriage with Claudio and Hero is dark–as it should be–and when they dance alongside Beatrice and Benedick, it's telling that the latter couple's dance is exuberant, ecstatic, and the the younger couple is slow, controlled, tight, to the point that they separate and sit on opposite ends of the stage, leaving separately altogether as the lights go down.
Just a magnificent production. As much as I loved Pericles (and I do think it's the more inventive production), this is the play that I would tell people to make a beeline to Oregon for. You wouldn't be sorry.
Of course, there's not much time left before this season ends… less than two weeks for Antony and Cleopatra, less than a month for Pericles and Much Ado About Nothing.